February 13, 2023
Instagram is one of the most popular social media platforms, with over 1 billion monthly active users. It is a forum that provides a platform for individuals, businesses, and organizations to showcase their brands, products, and services to a global audience. If you are a popular account or brand on Instagram, you may want to consider getting verified on the platform. Verification on Instagram gives your profile a blue tick, which signifies that your page is authentic and officially recognized by the platform. In this article, we'll go through the Instagram verification process, what it comprises, and how to apply for it.
What is Instagram Verification?
Instagram verification is the process of obtaining a blue tick on your profile, which serves as a symbol of authenticity and credibility. It indicates that your page is legitimate and Instagram has verified your identity. Once you receive a blue tick, your followers can trust that the page they are following is the real deal.
Why Get Verified on Instagram?
There are several benefits to getting verified on Instagram, some of which include
Increased Visibility: Verified accounts are more likely to appear in search results and receive higher engagement rates.
Credibility: A blue tick symbolizes credibility and legitimacy, and followers are more likely to trust and engage with your content.
Protection from Impersonation: Verified accounts are protected from impersonation, and Instagram can take action against accounts that copy or misuse your content.
Improved Brand Image: Verified accounts are perceived as more legitimate and professional, which can significantly improve your brand's overall image.
Who is Eligible for Instagram Verification?
Instagram validation is not available to everyone, and only certain types of accounts are eligible. To get verified, your account must meet the following criteria:
Optimize according to the platform's policies in good standing.
Detailed profile with PFP, bio and at least one post.
A public account with a high level of engagement and interaction.
Unique content without any duplicity in the entire account.
A notable public figure, brand, or entity.
How to Apply for Instagram Verification?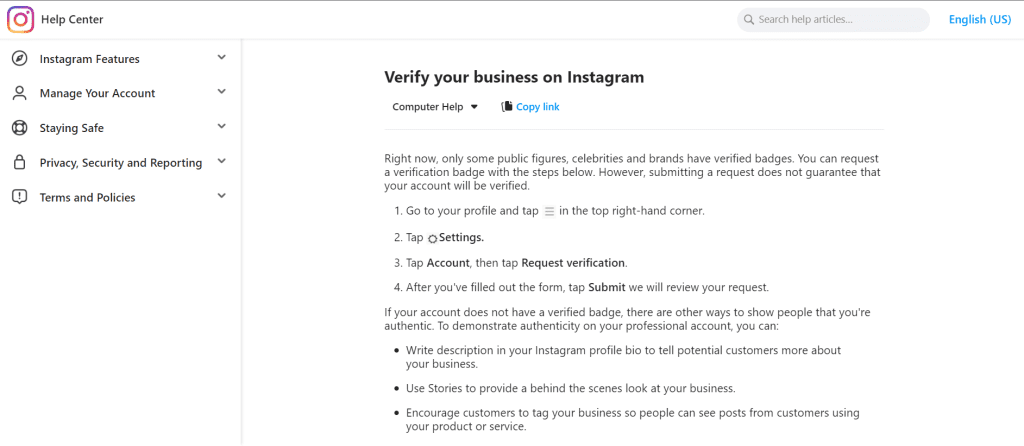 To apply for Instagram verification, you need to follow these steps:
Go to your profile and tap on the three lines in the top right corner of the screen.
Select Settings < Tap on Account < Tap on Request Verification.
Fill out the verification form, including your full name, username, and a copy of your government-issued ID or passport.
Submit the form, and Instagram will review your application.
What Happens After You Submit the Verification Form?
After you submit your verification form, Instagram will review your application to determine whether you meet the criteria for verification. This process can take several weeks, and the platform may contact you for additional information.
If your application is approved, you will receive a notification from Instagram confirming your verification status, and your profile will display a blue tick.
Myths about Instagram verification
You can only apply for verification once: Post rejection, you can reapply after 30 days for account verification.
Verification is only for personal accounts: Business and brand accounts are also eligible for verification on Instagram.
Verification is permanent: Instagram verification may be revoked if the account violates the platform's policies or terms of service.
Verification is Automatic: Instagram's verification process is not automatic and requires manual review. The process can take weeks or even months.
Followers matter: You can get an Instagram verification badge even if you do not have a million followers.
In Conclusion
Getting verified on Instagram is not a cakewalk, you need to meet certain criteria and follow some steps. It is critical to regularly post high-quality content and have a thorough and credible profile to boost your chances of being verified. Additionally, you should follow the instructions provided by Instagram, such as submitting a request through their verification form and providing them with accurate information. Remember that the verification process can take some time, but it is worth the effort if you want to establish credibility and increase your visibility on the platform.